When Justin and I started our bedroom renovation, the #1 thing on our lists was to upgrade our mattress to a king. My plan had then been to move our old queen mattress down to the guest room (which had just been a full size). It felt like such an easy solution to upgrade our guests as well! Except, if you've followed me for any length of time, you know that "one simple change" is rarely ever just one thing . . . and this time was no different. Enter: project spiral.
The full size mattress had been sitting on an old metal frame that we thought would easily extend to fit a queen. Long story short, it did extend, but we did not have faith in the integrity of the metal bars going across at that length, so we decided to just get a new bedframe. Except all the bedframes we liked were platform beds, which would not work with our old queen mattress + box spring combo. Before we knew it, the project had spiraled to getting a brand new bedframe and memory foam queen size mattress. But wait there's more! We realized the increased width of the mattress made everything feel too tight with the nightstands, so we needed to swap those with the smaller ones from our bedroom upstairs. And! All the queen size sheets we used in our room don't match the bedding we have in the guest room. Oy vey.
What started out as "one simple change" has now spiraled into a much larger project. It's kind of crazy but at the same time, I'm thinking "why not go all in?" When I wrote a "one year later" post about the guest suite renovation, I mentioned that I was itching to add some interest to the white walls with a wallpaper or something. This project has already expanded beyond our expectations, so let's just tackle that now too, right?
Unfortunately, since this is entirely a result of a project spiral, there's no budget for wallpaper. I just can't justify spending several hundred dollars on wallpaper and installation (we do a lot of DIYs around here but after the playroom accent wall, installing wallpaper isn't one of them haha). So I'm going a much more cost-effective route: stencils!
I've never stenciled a wall before, let alone a whole room, but I'm feeling pretty optimistic so far and I've been gathering lots and lots of inspiration!
This is one of the earliest images I saved when I started dreaming about adding something to the walls and it remains one of my favorite choices. I love the organic, soft flow of the olive branches and I love the varying shades of green throughout. I want to imitate the subtle differences in leaves, but I also want to infuse a little more color in my palette.
I love this color palette – give me all the muted shades of green and pink! – but the actual pattern itself is larger and busier than what I'm looking for. I also don't like how all the flowers line up precisely and prefer a little bit of a looser pattern.
This one is similar to the one above and isn't as precisely lined up. I actually really love this one and wish I could consider it for the guest room, but at $92/roll, it's just not a realistic option for the entire guest room. I'm definitely keeping it in mind for Vi's room down the road though!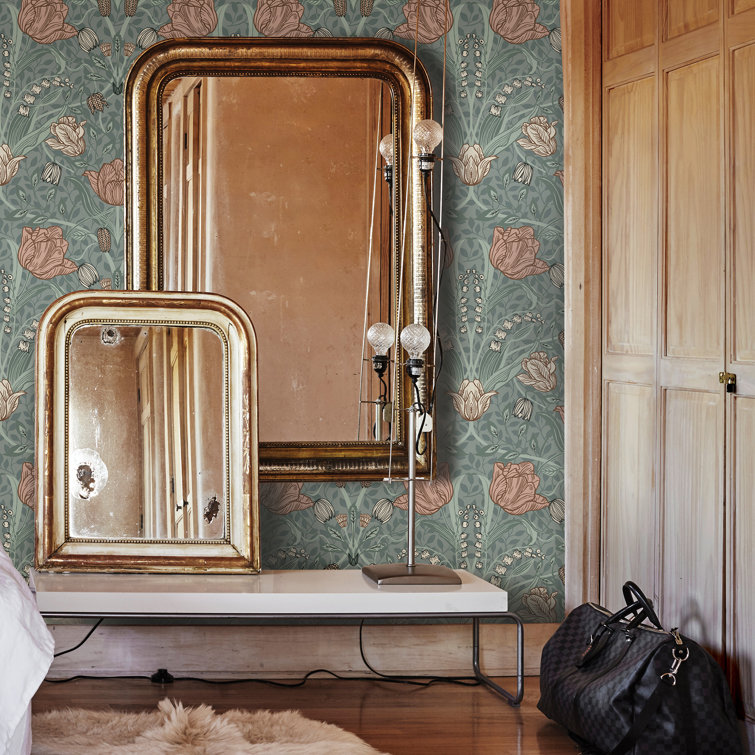 Okay, I am not a bird person, but there are still a lot of things here that speak to me. I like the white background. I like the varying colors of green in the leaves and I really love the subtle pops of color (particularly pink and yellow!) in the flowers. I'm drawing a lot of inspiration from this one!
Here are a few other photos of wallpapered rooms that I'm drawn to. While none of them show exactly what I have in my mind for the guest bedroom, they are all giving me inspiration for the feel I want to create in the space.
I purchased a few of these stencils from Hobby Lobby and I'm going to test out different color palettes (I'm thinking shades of green with small touches of muted yellows and rosy pinks). Once I finish up Vi's birthday gift, my focus is going to shift on getting this project done and then updating the bedding to coordinate. We have guests coming on September 10 so that is my timeline for finishing – just over three weeks away!